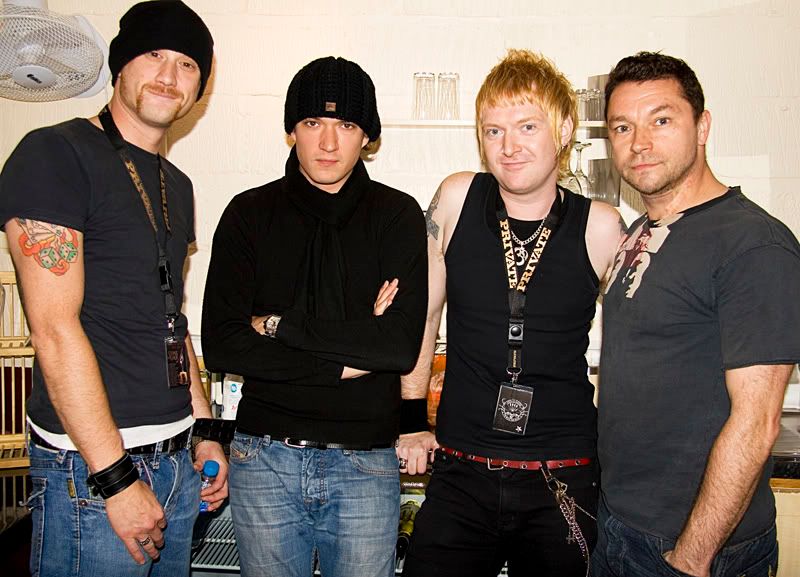 Click on the above links to find out more about each band member.
Former Gods - ex band members
Our Gods have a team of highly skilled and dedicated Management and Crew behind them, helping them achieve their goals and making them sound as heavenly as they are! 
Click on the above link to find out more about their gear.
The Story So Far....
Once, there was The Darkness. Four lads, rock in their souls and magic in their hands. For a time, they took us to dizzying heights of worship, adoration, devotion and a great deal of amusement - fun and rock in a rather wonderful package.

That package got somewhat damaged in the delivery, and finally, in Autumn 2006, Justin left. Dan, Ed and Rich rebanded, regrouped, got their heads together, and invited Toby Macfarlaine to join them from his own solo work and from playing with Graham Coxon. Their need was greater... a year went by. Plottings, plannings, preparations simmered in the heart of Norfolk, wrapt in secrecy. Toil, trouble and bubbling riffs were thrown into the pot, heavy vocals, a few slightly damaged Marshalls, and one or two injuries (sacrifices) were added as and when required. Time will tell if the croquet mallets were pureed into it. A good mixing later, time to settle and blend...

Stone Gods. Born of hard work, desire, turmoil, and determination. Watch, listen, and learn.